On top of everything .........
Scott, was at our house or calling us to help us out when needed. He was always on top of everything needed to be done. Answered all my questions, if you want a kind, caring, Broker Scott is that person.
- libraclh
Buying from another state .........
We bought a house on the internet! Scott was invaluable in helping us locate and purchase investment property in Washington while we're still in California. He spared no effort in getting us details and photos on potential units, helping us to evaluate locations, purchase a unit, and even getting it ready to rent. His prior experience with Fannie Mae helped minimize stress during escrow. Top ratings, and dog-friendly to boot!
- user9812677
Wonderful job .........
Scott Did a wonderful job working with my wife and I. Our experience with Scott was worlds better than the realtor we used when we purchased our original home. Scott took the time to show us all of the properties we where interested in, and was very patient with our needs and concerns. And because we enjoyed working with Scott so much we asked for his assisted with the sale of our old home. I would highly recommend Scott as anyone realtor. So my so that I have personally passed his card and my recommendation along to family and friends. Which I would not do unless I believed Scott Watkins.
- mcmillard
Over and above ................
Scott went over and above more then any other Real Estate agent that I used. He was the 4th one that I had. Scott went out of his way to find various homes to what I was looking for. He sat down with me and explained every little part of buying a house and all the paper work that was involved with this process. This was my first home and he was very professional and courtesy. I know live in a different state and when it came to selling my house Scott was right there making sure everything was going right. If i was looking for a home in Washington State again I would be on the phone calling Scott. I trust Scott 100% knowing that he gives 100% in everything to help you find a home for you and your family. Thank you Scott
- zuser20140527184445132
Pleasure to work with ......
Scott was a pleasure to work with. We needed an agent who understood our urgency and how competitive the market was, and Scott was definitely on top of things. When we found a property of interest, Scott would get us in to see it right away. He was willing to go above and beyond to represent us in every way and we feel really lucky to have found him. We could ask him any question, call him any time, and his responses were always in quick return and very helpful. We enjoyed Scott's more sensible approach... He didn't try to impress us or win us over by showing up in a fancy car and designer clothing as a lot of real estate agents do... He earned our respect by simply doing the job he promised to by providing the services we asked for. Scott was exactly what a real estate agent SHOULD be... He was great.
- user6067188
Highly recommended ...............
Scott was our agent when we moved to Mount Vernon from Portland OR. We arrived at our new home later than expected..it was dark and we had no idea when anything was. The refrigerator was plugged in and stocked with pizza, soda, and coffee for morning. Awesome..we were tired and hungry!. Naturally when we retired and decided to move back south we called Scott, knowing he would do his best to sell our home. He is highly recommended by this family!
- khauser3
I also referred him to my sister and aunt .......
Scott helped me buy my townhouse in 2009, i also referred him to my sister and aunt, whom he helped sell and purchase homes for. Scott also just ran a Market Analysis on my home as I needed to know where I stood financially with my home. The Analysis was wonderful and full of much more information than i was even asking for. I Highly recommend Scott to anyone looking to sell and or purchase a home, he will do everything he can to make this a smooth transaction.
Besides that he also works with Old Dog Haven!
Wonderful person.
- dollytow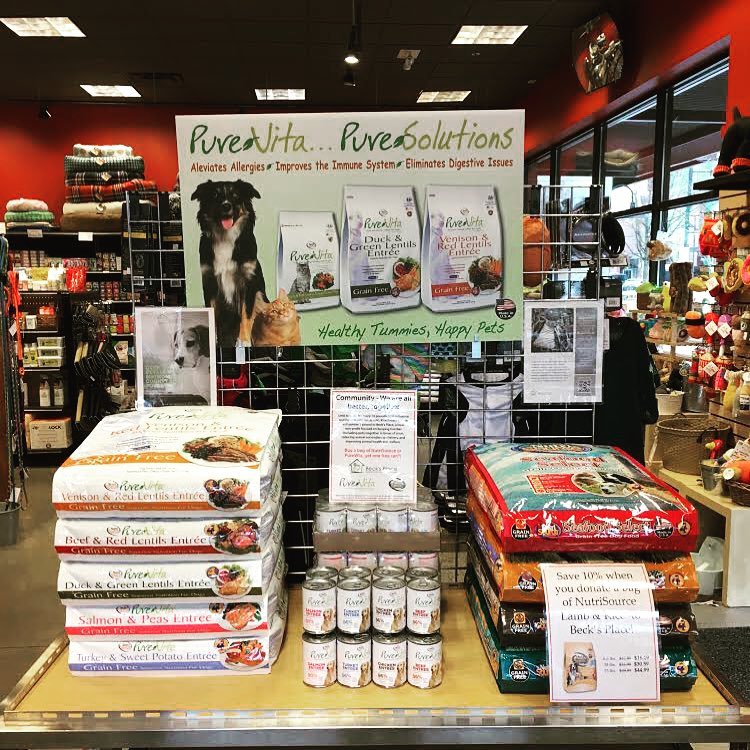 Paddywack - Mill Creek
We would also like to give a big shout out to our friend Scott Watkins of Dog Gone Good Real Estate at Professional Realty Services, who has helped bring us all together through his generosity and support of NutriSource, Beck's Place, and Paddywack! Scott has not only already purchased ten 33lb bags of NutriSource Lamb & Rice food to donate, but he has also purchased two heavy duty shelving units for Beck's Place that can hold up to 8,000lb each of pet food! Wow! We are ready to fill those shelves with your help, and you can read more about the drive at Scott's website, http://www.dggre.com/, as well, for all the details!
November 2017 Pet Food Drive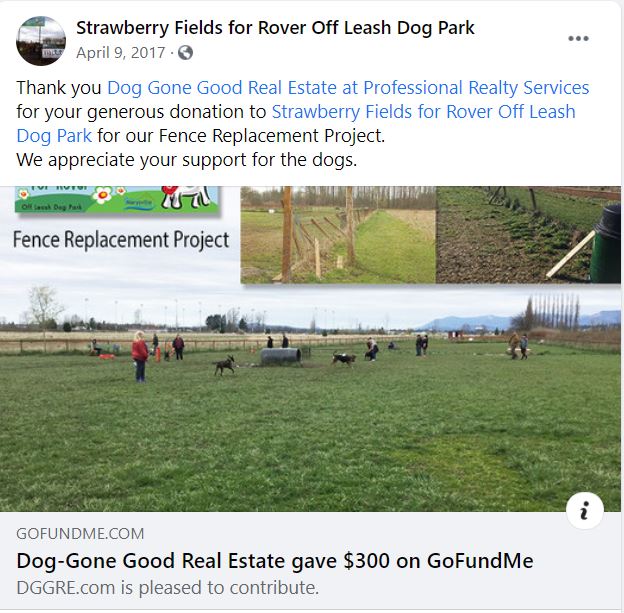 Strawberry Fields for Rover Off Leash Dog Park
Thank you Dog Gone Good Real Estate at Professional Realty Services for your generous donation to Strawberry Fields for Rover Off Leash Dog Park for our Fence Replacement Project.
We appreciate your support for the dogs.
Strawberry Fields for Rover Off Leash Dog Park - April 2017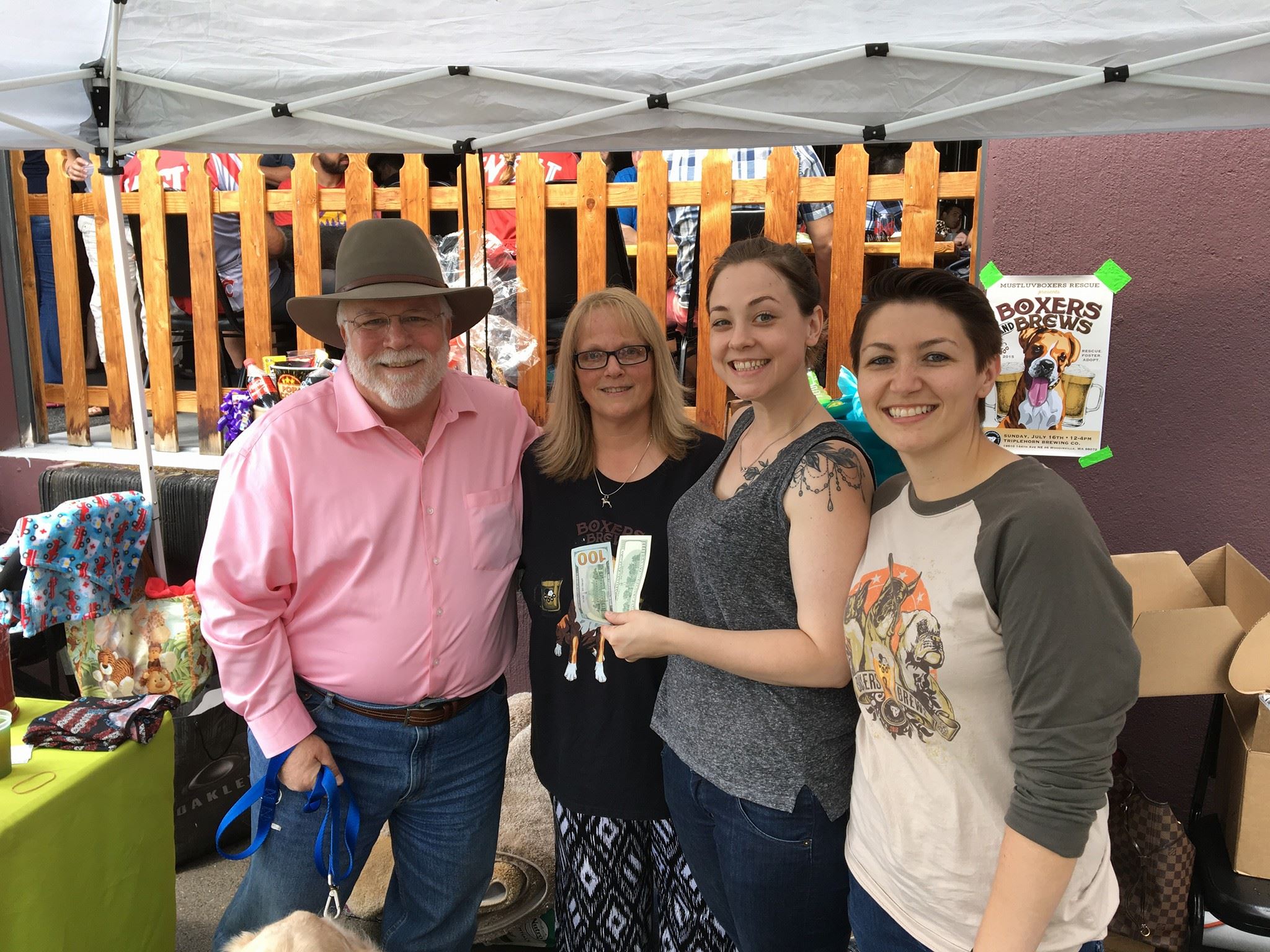 MustLuvBoxers Rescue Fundraiser
We want to send a special shout out and THANK YOU to Scott Watkins from Dog Gone Good Real Estate at Professional Realty Services (DGGRE.com) for his generous donation presented to us at our Boxers and Brews event this past Sunday. Scott spent the whole day with us at the event, alongside his handsome 17-year old Golden Retriever, Bull Dozer.
MustLuvBoxers Rescue Fundraiser - July 2017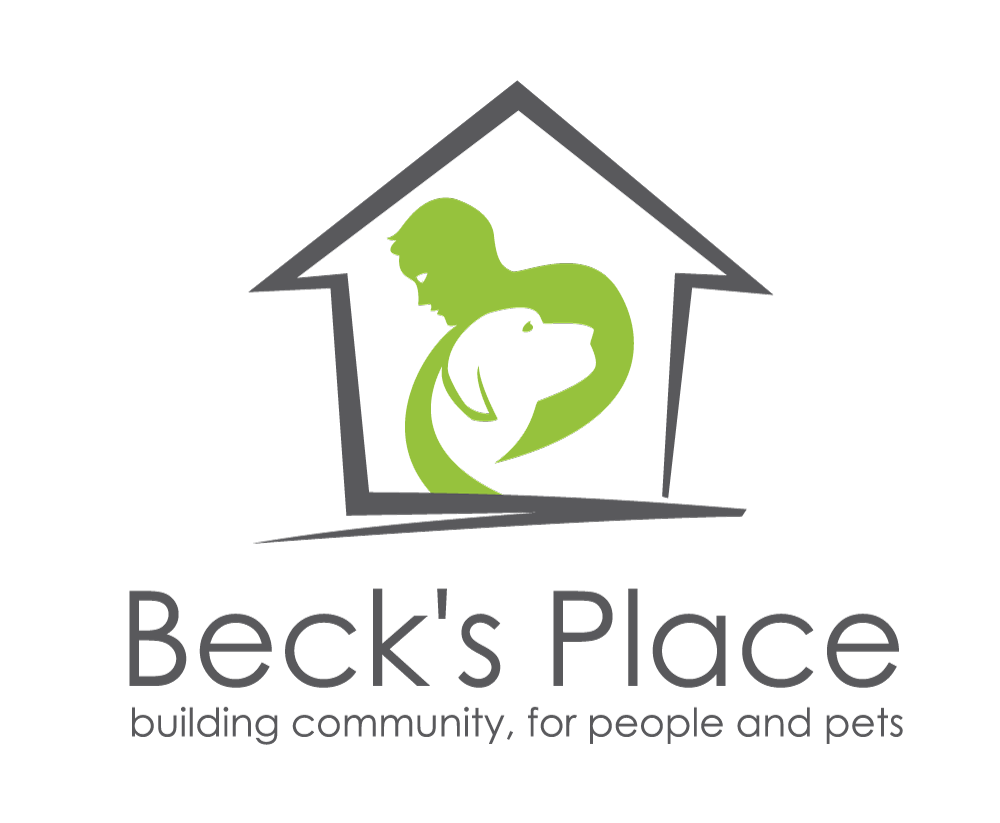 Beck's Place
We put out a desperate call for shelving today and within minutes Scott Watkins with Dog Gone Good Real Estate at Professional Realty Services sent us a message that he ordered a two pack from Costco and they were on their way.
After Scott and DGGRE were introduced to Beck's Place he quickly became became part of the passion for what we do and has been supporting us ever since. Scott understands that pets are family. Supporting his community is built in to the fabric of his business. He even was the third place fundraiser for this year"s Old Dog Haven walk. And you know what he did with the gift cards he won as a result? He donated them to Beck"s Place so we could stock our shelves with much needed cat food.
THIS is BETTER TOGETHER - combining resources, strengths and talents to make an impact.
We always want to thank and share the businesses that support us because we want our individual supporters to have an opportunity to choose businesses that make their community stronger. If you are going to be buying or selling a house you can't go wrong with Scott and DGGRE. Thanks, Scott, for helping us build a community for people and their pets.
Hard working, honest ...........
Awesome realtor with excellent ethics. Hard working, honest and so helpful with every aspect of the sale! Plus, Scott is a champion for dogs everywhere! You can't go wrong with Dog-Gone Good Real Estate!
- AW
Referred him to five others
I purchase from Scott 7 years ago, since then I have referred him to 5 others who also purchased with Scott, couldn't ask for a calmer and patient Realtor! He will go the extra mile for you! We Love Scott, give him a try you wont be sorry, plus he loves dogs.....
- DH
First House
My wife and I bought our first home using Scott. He really knows his stuff and knows how to explain things in a way that makes sense. Scott is very kind and laid back making him easy to talk to and ask questions. Scott is very thorough and helped us over hurdles that were not even his responsibility as our agent. You can tell he loves what he does. He does a great job and is the kind of person you become friends with in the process.
- LM